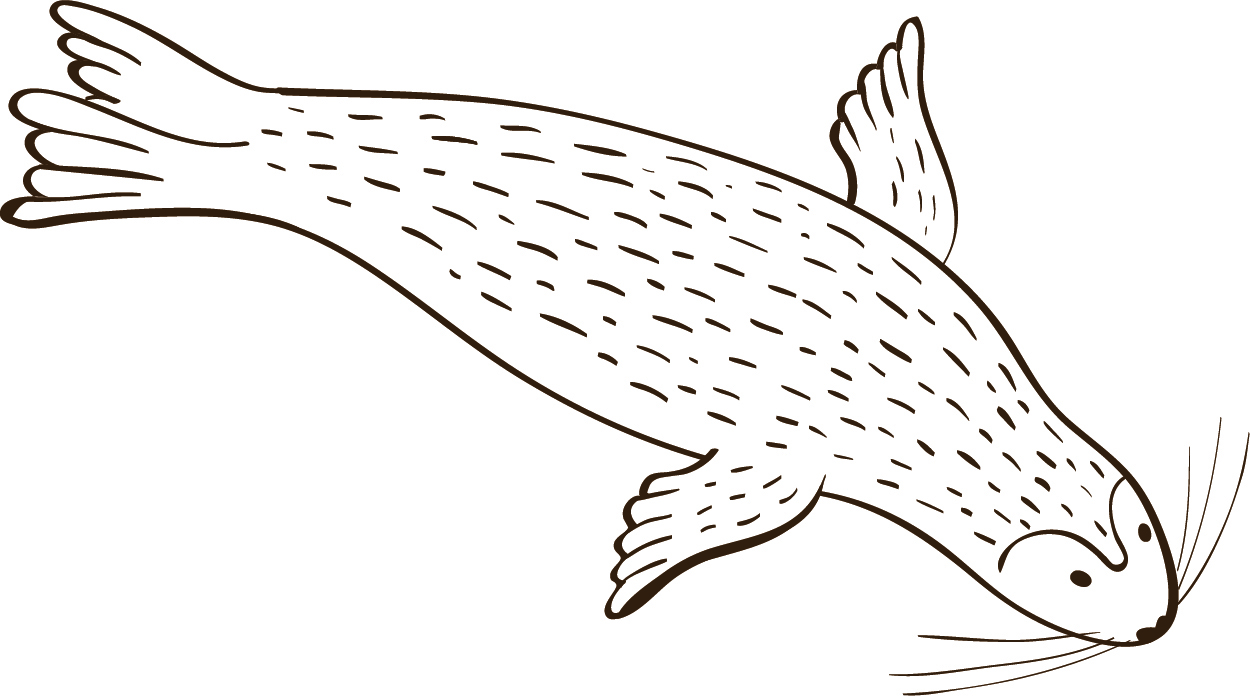 How can I see the seals?
Two and a half hours before low tide, the sandbanks are uncovered and the seals take advantage of this to warm up and rest on the sand called "reposoirs" (resting places).
In Berck-sur-Mer, you can observe the seals every day of the year by taking the Chemin aux Raisins, at the junction of the Authie and the Channel, in front of the water sports base.
Download the Map of Adventures to locate the viewpoint
They can be seen a mere 50m away, on the other side of the Authie, where they feel safe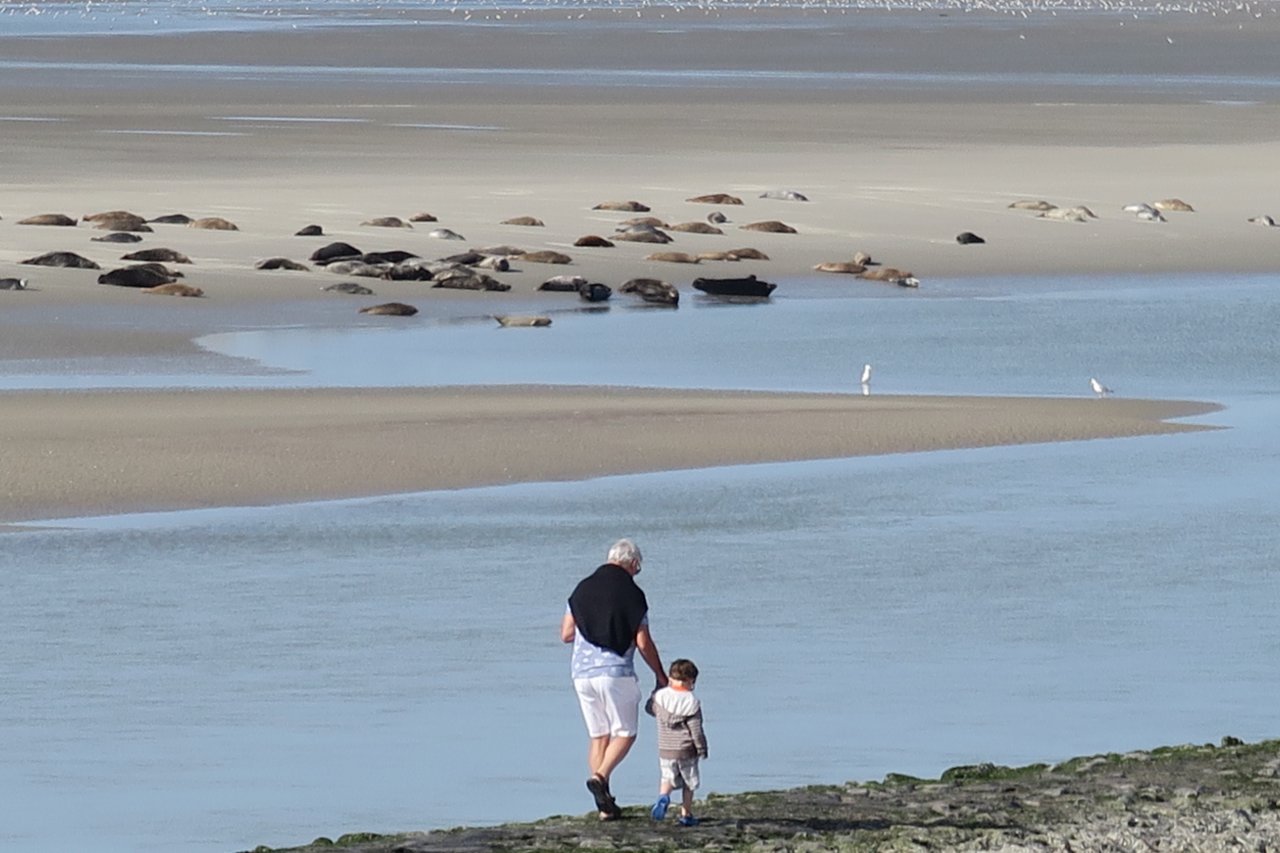 A seal colony, a natural curiosity you cannot miss!
A little bit of history...
A very long time ago, a seal colony formed in the Bay. Proof of this fact is a sketch of Francis Tattegrain from 1890.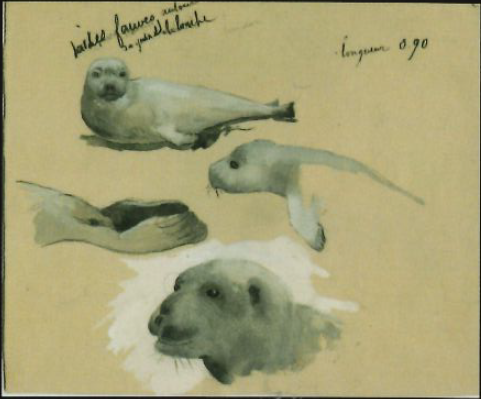 As their skin and fat were prized resources, seals were hunted out of their natural habitat for a long time. In 1972, hunting was outlawed, and little by little, the seals came back to the resort.
Nowadays, the seals are even more numerous. During certain months, they can be more than a hundred! There are two species of seal here: the harbour seal and the grey seal.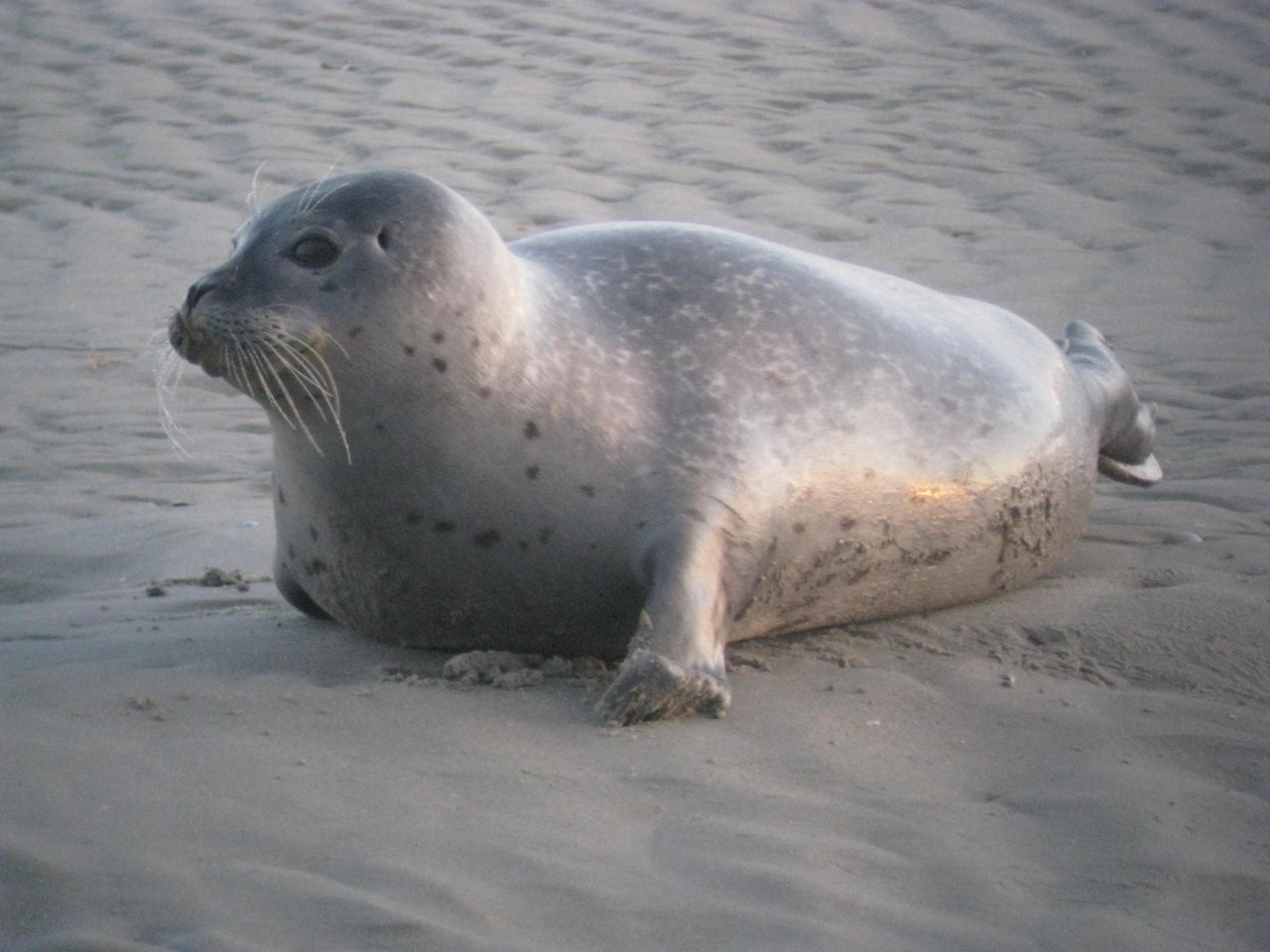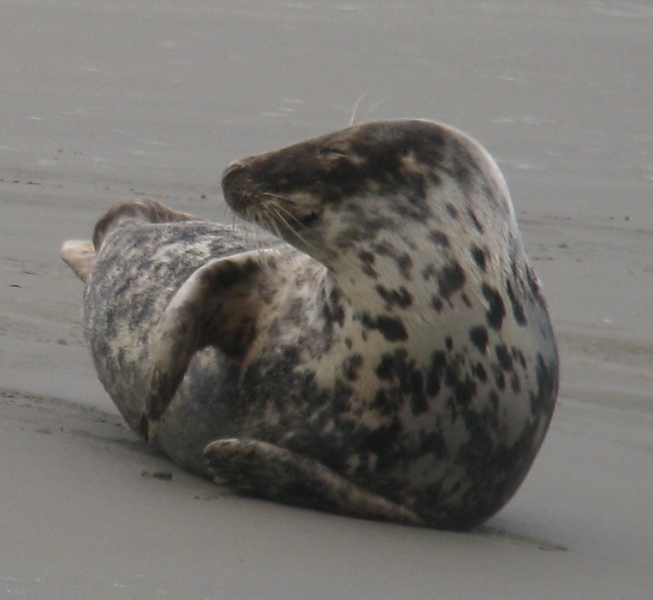 Harbour Seal

Grey Seal

Female:

Life expectancy: about 38 years

Size and weight: 1.20-1.70m / 50-150kg

Birth: June-July

Female:

Life expectancy: about 46 years

Size and weight: 1.70-2.20m / 100-200kg

Birth: in the winter

Male:

Life expectancy: about 35 years

Size and weight: 1.40-2m / 70-170kg

The harbour seal has a round-shaped head, with a clear divide between the forehead and the snout, v-shaped nostrils and a fur coated with clear, thin spots. They eat about 3kg of fish a day.

Male:

Life expectancy: about 35 years

Size and weight: 2.50-3m / 200-250kg

The grey seal has an elongated snout, parallel nostrils and a blotchy fur with big, brighter spots. It is twice as big as the harbour seal and eats almost twice as much fish, with 5kg a day.
Greedy hunters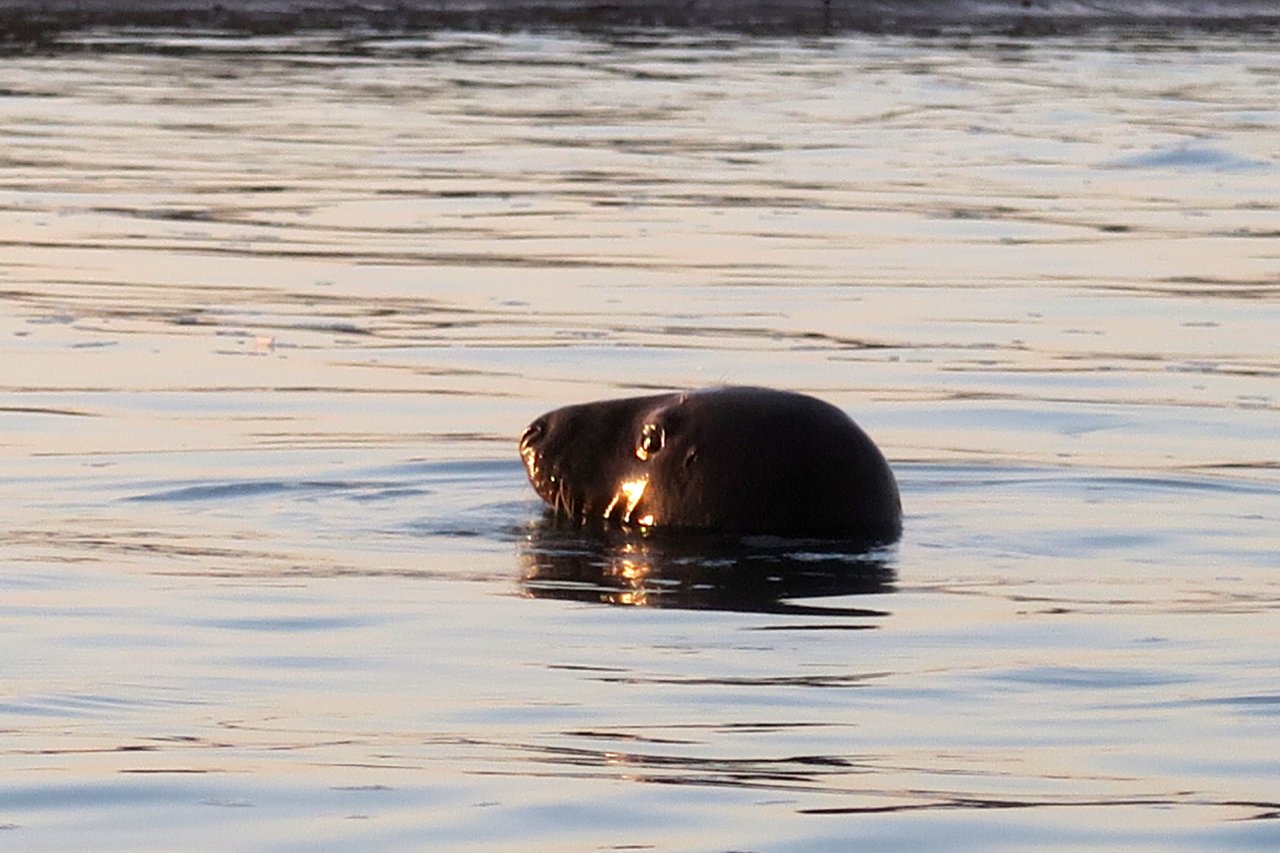 Like most marine species, seals have a very bad sight and thus use their whiskers to hunt. They indeed help them to localise themselves –and their prey, in the water. Thanks to their whiskers, those little sea monsters are deadly hunters. A seal is able to locate a fish some 180m away.
The Baie d'Authie is a true haven of peace thanks to the abundance of fish in its waters.
A safe haven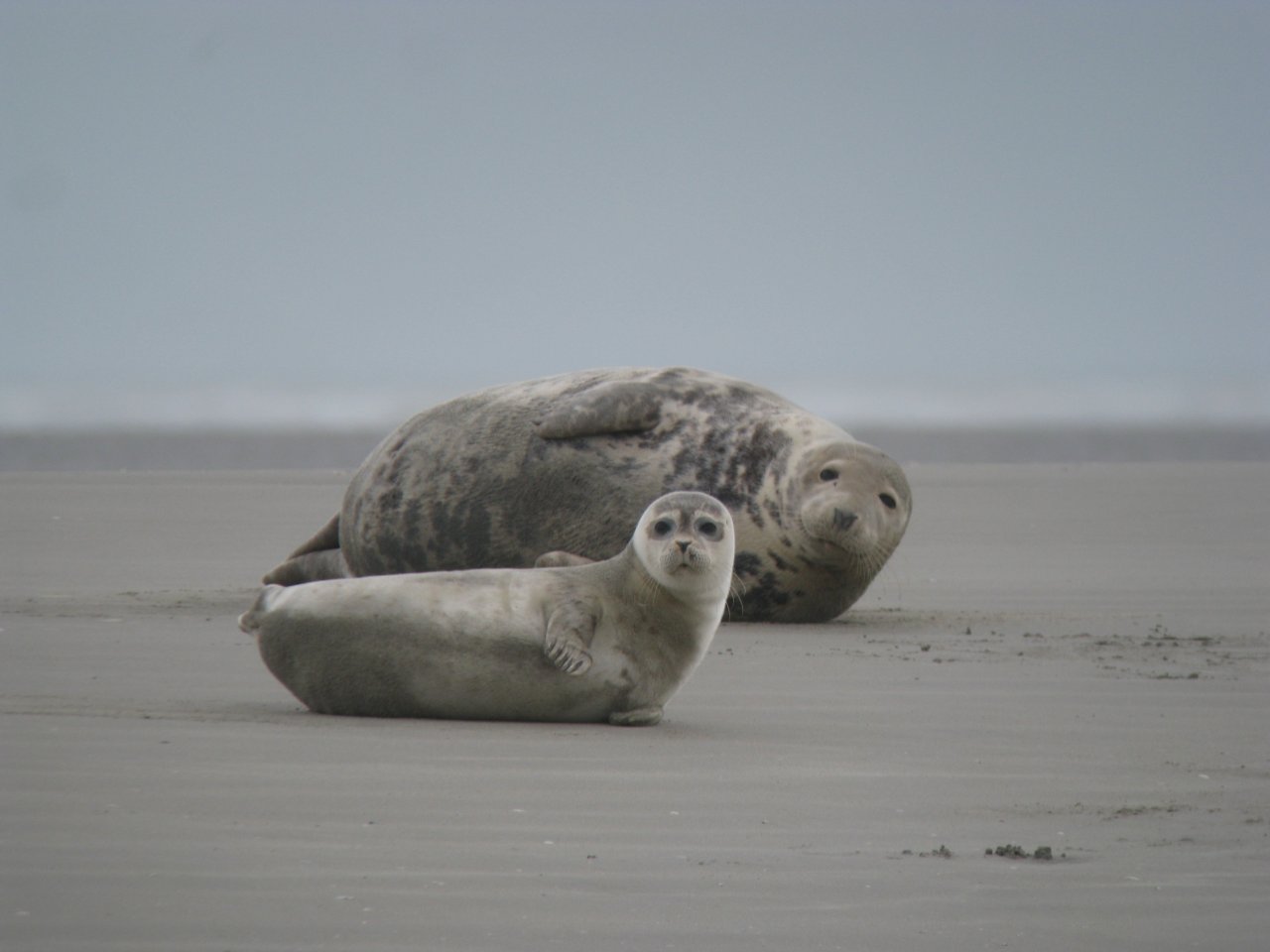 The Baie d'Authie is the perfect area for these mammals; the sand banks allow them to rest, to warm themselves up and to protect themselves. Besides, the sea gives them fish aplenty. Seals rest on the sand bank so they can get enough energy for hunting at high tide. Their favourite activity is indeed quite exhausting! It is thus essential for them to rest and store fat for the winter. Seals also need this sand bank to warm themselves up, for reproduction, to give birth and to feed their pups.
Human disturbances that can have dire consequences…
Let us not forget that harbour and grey seals are two wild and fearful species. It is vital to observe a few rules in order to guarantee the good health of our mascots!
If you spot a seal pup without its mother, do not worry, she will come back shortly.
If you spot a seal pup in distress, keep your distance and call the réseau National Echouages (PELAGIS) at +33(0)5 46 44 99 10
Keep your dog leashed at all times.
Rendezvous at the water sports base, at the chemin aux raisins, two hours and a half before low tide.
If you wish to discover the bay and the seals with a guide, click here