Traveliling to berck sur mer?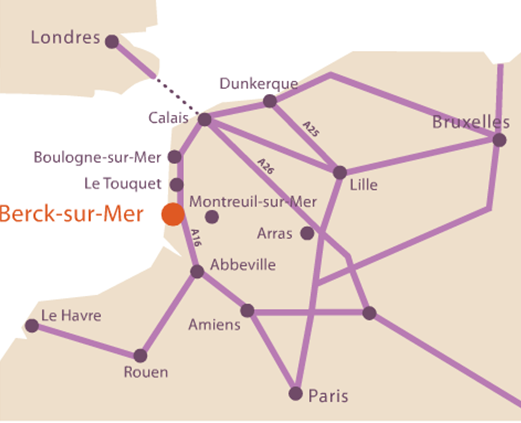 Berck-sur-Mer is located South of the Côte d'Opale, between the Baie de Somme and the Caps Blanc-Nez and Gris-Nez, only 2.30 hours away from Paris, Brussels and London.

From there, you can reach in an hour (by car) the main tourist sites of the region: Baie de Somme, Caps Blanc-Nez and Gris-Nez, Arras, Audomarois marshes, Amiens…
The resort is served by the A16 motorway
A carpooling area is available at the Rang-du-Fliers train station (7km)
If you come by electric car, a recharging point has been set up at the CINOS (Place du 18 juin)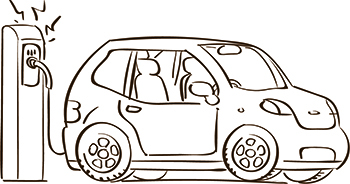 From 15 June 2023, parking in Berck-sur-Mer will change and become payable.
After the first hour is free, once a day, and cannot be split, parking will be charged via parking meters and the Prestopark application (available on Iphone and Android)
Find the different paid parking zones on the city map
- In the green, orange and red zone: from 1 May to 30 September and during All Saints' school holidays, from 9am to 12pm and from 2pm to 7pm, 7 days a week, including weekends and public holidays.
- In the yellow zone: all year round, from 9am to 12pm and from 2pm to 7pm, 7 days a week, including weekends and public holidays.
Are you staying in Berck for several days?
There are parking passes available to allow you to park in the orange and green zones for the duration of your stay.
Parking package rates
| | | | |
| --- | --- | --- | --- |
| 7 days | 14 days | 30 days | 5 months |
| 20€ | 30€ | 40€ | 80€ |
There are several ways of obtaining a parking pass:
Collect your parking pass from the pay and display machines
Using the Presto Park mobile application (download from Play Store for Android or App Store for iPhone)
---
Camping-Cars
Motorhomes can park in a paying car park with access to water (from 1 March to 30 November) and it is possible to empty the vehicle.
Parking "des Sternes" - Chemin aux Raisins - Rate: 11€/24h
https://drive.google.com/file/d/1p0T7HeAe2Rdm_8jwBx9P_rLeueJkrxWD/view
Consult the areas where parking is prohibited (indicated in YELLOW (lien : https://drive.google.com/file/d/0B4wwy53hP-aLWDB2c3lxZVZrNEE/view?pli=1&resourcekey=0-s9LKfzYCaowkWtUFev12EA)
---
Motorbikes
Locate the motorbike parking on the town map via this link (B8 - south of Esplanade Parmentier). Parking is free and unlimited in the city. (lien : https://drive.google.com/file/d/15feRsQ1i2_nIAdqQIF2pPLBWUdyMCY7-/view)
---
Bus

A bus service (Line 2) links Rang-du-Fliers to Berck: https://ca2bm.monbus.mobi/2clock/lignes?n=4
- Etaples-sur-Mer station (17km) is served by the Arras-Boulogne line. A bus link (line 513) connects Etaples-sur-Mer to Berck.
info : https://www.voyages-sncf.com/
You can also take a taxi from the SNCF train stations to the Berck bus station
https://www.ca2bm.fr/service-au-public/transports/se-deplacer/les-lignes-regulieres
---
Private buses :
The drop-off point is located at the Place du 18 juin (bus station stop) behind the casino.
Parking spaces are available at the intersection of Chemin des Anglais and Avenue du 8 mai 1945. Check out the spot (E3) on the map
We invite tour operators to inform the town planning department of their arrival at +33(0)3.21.89.90.00
(lien : https://drive.google.com/file/d/15feRsQ1i2_nIAdqQIF2pPLBWUdyMCY7-/view)
---
With train

The nearest train station is in Rang-du-Fliers (7km) from the beach of Berck and is served by the Lille-Calais-Boulogne-Amiens-Paris-nord line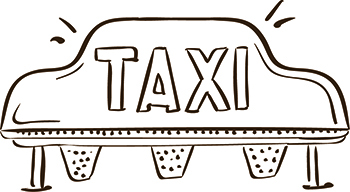 You can also take a taxi from the SNCF train stations to the Berck bus station